»Provence«




homage to a lovely provencalian farmhouse.



As mentioned in the prologue, the speaker »Provence« was our first finished speaker concept employing the PHY-HP H21 LB15. It debuted at Frankfurt HighEnd Show 1997. The cabinet is an acoustic baffle-like construction based on historic designs. Because of the extraordinary sound quality of the unit's rear-radiation, the dipole option almost suggested itself. The posts are sawed from an entire piece of wood and shaped into form by workmanship. The cabinet's provencalian character is also reflected in the painting: We import original pigment colours from Provence and process them in classical fresco painting technique. A special wax layer protects the colours fom dust and humidity.

For the longest time, wide range loudspeakers were considered a compromise at best. Most people imply a certain lack of low and treble in an audiophile sense, caused by irregular frequency responses and the limited bandwidth of bicones.

In its own remarkable way, the PHY-HP unit shows how such restrictions can be overcome. Preliminary to its success is the user's willingness to recognize its many possibilities: The individual abilities of a speaker unit can either be brought to shine or remain largely undiscovered. And one shouldn't forget that speaker concepts without crossover are likely to point out flawed components and would do so relentlessly.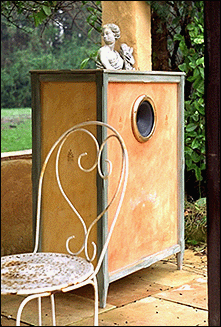 The idea for a speaker like »Provence« came to us during a vacation at an enchanting spot, a beautiful farmhouse in the sunny south of France. In this serene setting, any other type of speaker would upset the harmony of the charming interieurs in local country style. We hope that the outer design of this loudspeaker, its sunny colours, its unbelievable musicality and its almost instrument-like music reproduction will put its owners into the same cheerful vacation mood.
A transducer of a different type.