Speaker cable by Auditorium 23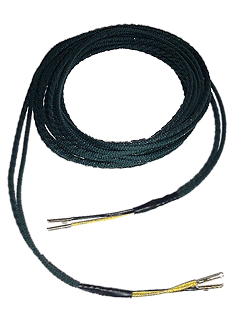 A23 speaker cable does not come from industrial drums. It is composed of 2 differently structured conductors of differing profiles which are manually twisted, coated in a green or gray jacket and then terminated with beryllium-copper banana plugs. We prefer and appreciate these plugs, because of the minimum of material to filter the signal. The small diameter of these plugs does not allow solutions for bi-wiring, but it's possible to provide jumpers when desired.

Since the speaker cable is manufactured manually, individually desired lengths are possible.

| | |
| --- | --- |
| | |
| | A23 speaker cable is manufactured unchanged since the early 1990ies and – according to the feedback of our clients – competes very well until this day. |
| | |
Extracts of online-reviews at http://www.auditorium-23.de/6moons/Moons1.html

Reviews at 6moons:
http://www.sixmoons.com/audioreviews/auditorium23/23.html
Jules Coleman on 6moons
http://www.sixmoons.com/audioreviews/devore2/silverback_2.html
"Giant killers and heebie jeebies", Ken Micallef
http://www.sixmoons.com/audioreviews/luminous/synchestra.html
Jeff Day on 6moons
http://www.sixmoons.com/audioreviews/omega2/super3_2.html

At dagogo by Jack Roberts
http://www.dagogo.com/View-Article.asp?hArticle=240


A23 Interconnect Cable

Since spring 2008 our Hommage-Line is enriched by our own IC-Cable. This cable was developed as a partner to our speaker cables and is being manufactured exclusively for A23 to our specifications and hand terminated by us. It is available in individual lengths beginning at minimum lengths of 50 cm.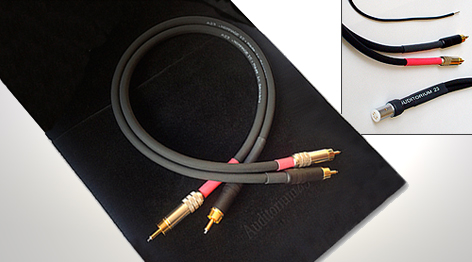 The A23 interconnect cable has a parallel symmetrical composition with one side shielded. It is terminated with SWC-plugs, which are thoughtfully revised to follow the historical ideas of the manufacturer. Alternatively, it is available with 5-pin connectors for use as phono-cable.



In May 2010 A23 Interconnect Cable received the


Image Hifi Award 2010


by the German audio magazine Image Hifi


Some comments:

From Portugal:


"I already received the interconnect cables from you. I already heard them about 2 hours ... Congratulations! Very good sound! My 300 B amp is sounding much better with your cables, better timbre, more emotion, better dynamics..."



From Spain:


"Well, the product for my system is really good, just music, natural and very, very musical. Actually I don't think about highs extensions, mids and bass, the interconnects simply dissapear. Your products are magic!"



From France:
"I have just tried your new interconnect cable that Alain lent me for the week end and it is fantastic!! It sounds ...well like ... NO CABLE!! Transparency, emotion, details, rythm, tempo, image, it has everything, I could not stop listening and rediscovering record after record. Good job, BRAVO".

First review in Image-Hifi 3/09 by Roland Kraft:

"Strongly recommended!"