»Hommage Cinema«
A loudspeaker concept like that of the »Hommage Cinema« floated around in our heads for a long time. Nevertheless its realization failed due the unavailability of the needed components on the one hand and a practicality concerning economical aspects on the other hand. We never thought of the fact, that the realization one day would become possible by a manufacturer in China.
The horn for the »Cinema« manufactured by Uwe Meyer, Büro für Raumakustik, Wolfsburg, is formed from glued layers of spruce wood and connected to the LM 555 driver by a bronze adapter. The horn shown in the image was finished with walnut tree veneer. In its substruction it houses an acoustic line with a length of app. 1 meter. All visible wooden elements are manufactured with massive wood – the four sides of the cabinet as well as the acoustic line of the horn are covered with high-quality fabric.

The transducer is driven by the compression chamber driver of the LM 555 by Line Magnetic, an excellent replica of the legendary Western Electric 555.

For the extension of the high-range the LM 597 tweeter is used – also a superb replica of the historical original by Western Electric.

This loudspeaker shows a partially active concept. Its bass cabinet contains two drivers of different crossover frequency and adjustable efficiency. The used power amplifier modules operate in A/B-switching. The complex power supply based on selenium rectifying with good adjustability as well as the power amplifier modules were exclusively produced for us by Acousticplan.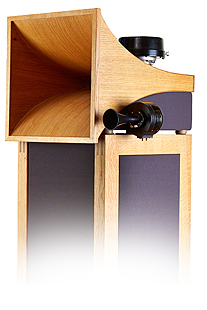 For mounting the tweeter different positions have been evaluated, in line-array with different mounting distances to the horn as well as positions on the outside of the cabinet. As a result, the lateral assembling has shown to be convincing in all aspects.
»Hommage Cinema« is manufactured in sophisticated handwork and on small-scale series. This speaker even supplies larger rooms easily. Its effortlessness conveys the feeling to be very close to the musical information even if they are reproduced at low levels e.g. in the evening. The level regulators of the bass modules are a more than helpful tool in this context.
An owner of "Hommage Cinema" in the USA wrote us spontaneously after receipt and installation: :
"I am so incredibly happy, the sound that comes out of the speakers is so musical and full and detailed. It's really a live performance every time. At this time, I don't possess the words and adjectives in my vocabulary that would describe how great your speakers are."


"Listening 167"
of Art Dudley in Stereophile