March 2011

How to start, when you're trying to give a short impression of the trip down memory lane, of the roads one has travelled, the more or less helpful detours, of the folks 'met en route' and all the anecdotes you keep in mind.

The story we tell especially target those who have known and accompanied Auditorium23 right from the start: the DIYers, music lovers and aficionados, the ones who wanted to make their own large and small discoveries aside off the beaten tracks. They came to us because we were – whacky like them – fascinated by a way of music reproduction that at the time was regarded by many as a kind of 'sectarianism' and ostracized by the media on a large scale.
Instead of trendy 'tall-boys' we preferred historical horn speaker systems, flee-powered tube amps instead of solid-state wattage-monsters, bulky vinyl spinners instead of handy CDPs providing "lossless" playback of recorded music. Freaky! The internet did not exist back then and insertions were expensive and only reached a limited number of readers. When we distributed "LES RÉALISATION de L'AUDIOPHILE" and later "SOUND PRACTICES" in Germany, less than 50 subscriptions were sold.



At the time, loudspeakers that could be driven by our L'Audiophile amps and later on by the Shindo amps were not available as items from current production. In order to be able to provide adequate speakers for our electronic line-up, we had to arduously search for historical components and to build customized cabinets for each individual client. Those custom-build speakers were often large and did not fit comfortably into ones living rooms in any case.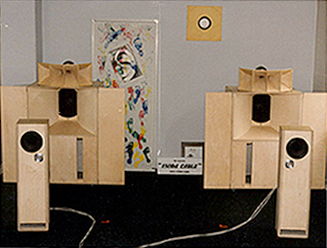 Voice of the Theatre and Triangle TQWT
at the Auditorium in 1989



As a manufacturer – unlike in the DIY community – we were also obliged to grant warranties on our products. But how could we grant guarantee for components only available in the vintage market. Hence, we were always looking for a manufacturer who was building speaker drivers with the desired materials and according to historical production principles.

A friend from France, journalist by profession, introduced Bernard Salabert
to us. He pursued such goals with his recently founded company PHY-HP. The PHY-HP drivers finally enabled us to build loudspeakers in a serial without compromising on our idea of music reproduction. Furthermore they allowed us to utilize smaller cabinets, which opened the path for new and exciting discoveries.

The rest of the story is well known and the loudspeakers developed in the following years (in addition to speaker kits that we offered) are shown on this website and described en detail beneath the links below.




In the public eye, the image of A23 morphed astoundingly fast. Called horn nuts before, we were now considered to be wideband morons. Opinions on our PHY-HP based speakers ranged from "thanks, but no thanks" to "you'll have to kill me before giving them back". Our "Interior view" tells a bit about the lessons you learn from

wrong timing

.

The preference for vintage audio was never forgotten, it merely flourished in the shadows. Circumstances were much too difficult for an honest attempt to make this specialized field of music reproduction accessible to a wider audience. However, it did not prevent ourselves from acquiring as many vintage audio products as possible in order to learn from them. As a result, our "Hommage"-line was born.

Today the ball is passed back to us

Those who have engaged themselves with the restoration of vintage cars will certainly remember times when it was almost impossible to find original spare parts. Today, newly fabricated spare parts are available in all instances for the restoration of timelessly beautiful classic cars.

In the world of audio, gladly the same holds true. What we learned from it was, that a certain way of enjoying music has gathered a larger base over time – and on a greater scale than we could have hoped for in the past. Original audio gear from the 1920s and 1930s for e.g. the ones from Western Electric, Klangfilm or Westrex are sought after collectors' items world wide, very expensive and thus cannot be afforded by most aficionados of such systems. The demonstration of such a WE-system (L9) by Silbatone at the High End 2010 in Munich not only led to crowded audiences, but also to a distressed believe in a supposed progress by more than a few exhibitors. A progress that often comes along with music reproduction characterized by fragmented tonal structures and the complete absence of an organic coherence.

Miracles do happen

The globalized world is close meshed network and offers opportunities we couldn't even dream of in the past. It seems that a long time had to elapse before the appreciation of reproduction systems that we favoured to develop became distinctive. And obviously it needed the foundation of a company
in China, whose owner shared this passion.

We are excited to have been granted the distribution rights for the products of Line-Magnetic Audio in Germany and its neighbourhood countries. And we are even more excited that this leads us back to our roots.

In the summer of 1985 we attended the first demonstration of a WE 15A/555 system in Paris at a small auditorium near Place Pigalle. It was organized by our later distribution partners from L'Audiophile. Listening to Barbara's "Göttingen" via WE 25B (from the collection of J.C. Verdier) and also to Nemesis, left long lasting memories. Close friends might know, how long we have wished for a re-launch of such components. The fact that these drivers and horn designs are now available from China reveals, that the idea of an inimitability of a product has become part of serious considerations in China too. In the past we could only dream of coming that close to the original with such craftsmanship – all in all resulting in a sound of timeless beauty. We believe that LineMagnetic Audio truly deserves our appreciation.

The fact that the owner of LineMagnetic-Audio is ardent collector of historical audio components rules out the assumption, that the replicas cannot bear comparison with the original drivers. Just the opposite is true: the materials are carefully chosen appropriate to the originals and the detail work is astonishing. The first replica of WE 22 A horns and WE 555 drivers – along with prototypes of WE 755 arrived in Frankfurt in summer 2010, while another, larger delivery arrived in December of the same year. The feedback we get from new owners is enthusiastic. As for us, a door to a whole new world of sound has been opened for them, where music is reproduced with fascinating subtlety and captivating authenticity – and where one is perplexed when considering, in which epoch these components were first developed. It's incredible, how fresh and modern these alleged historical speakers do sound.





Line-Magnetic WE 22 A




Finder keeper

A loudspeaker concept that has been in work for several years, prompted us to search for appropriate alternatives related to the WE 555. We did this in collaboration with our partner in the US, Jonathan Halpern of Tone Imports. From Racon to Vitavox, from RCA-variants to certain Jensen types: several drivers proved to be interesting in the testing phase, but ultimately remained problematic when it came to disposability and the modifications required to realize our project. The casual phrase "let's check out these Chinese drivers" resulted in the developments described above. Distribution rights were granted very quickly for us and the American importer.

Of course we do listen to the replicas in comparison to the historical originals and believe that the perceived tonal differences are more a reflection of aging effects than that of a different level of craftsmanship.

The journey remains exciting – stay tuned!

Product details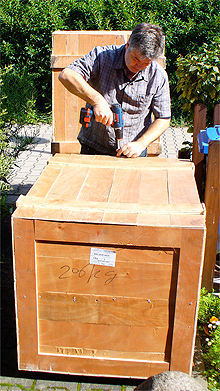 Arrival of the first delivery in summer 2010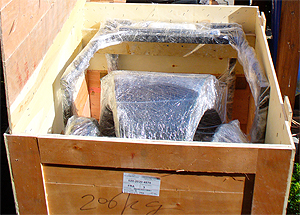 Horn and stand come in a wooden box, first-class packaged
and secured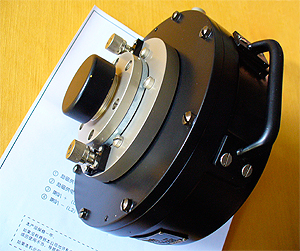 Line-Magnetic WE 555 driver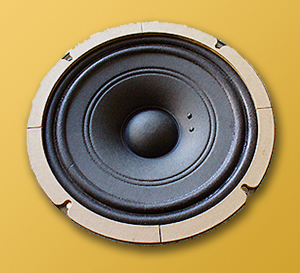 Line-Magnetic WE 755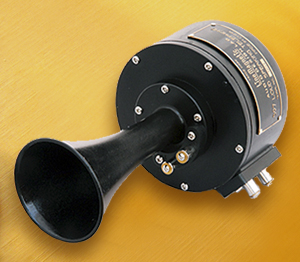 Line-Magnetic WE 597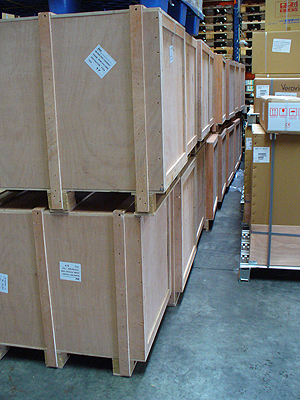 Arrival of the second delivery
in December 2010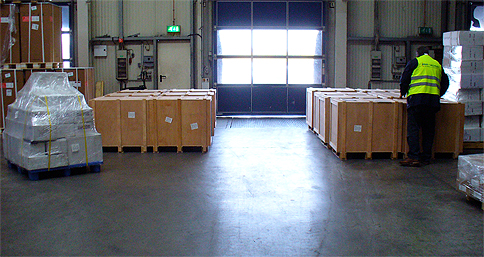 The shipping boxes are being provided with the addresses
of the recipients